TERA MINI SAIL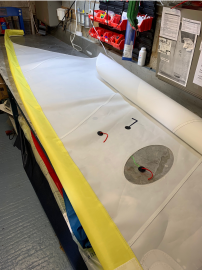 £128 - 5.5oz Dacron FREE DELIVERY
This reduced size sail is great for first steps &
windy days.
Same dimensions as the class mini sail.
PRICE PRICE PRICE many request for a quality razor
sharp priced mini sail. Its taken a while to answer this
brief but here it is.
Coaching my jrn has helped this development. Focusing on her development we realised a few key
features were essential for learning.

- re enforcement right at the top for those capsizes practices (and real ones).

burgee tube a long addition layer of sail cloth to slot a windex or burgee into... Aids downwind learning, knowing / understanding where the wind is.

- tell tail window, this is a big winner when learning to stay on the breeze and steering to tell tails.

- two style of tell tails, really pushing home accurate steering. Watch the video for the explanation.
- cloth weight is 5.5oz keeps durability and longevity - luff tube is yellow for visibility. Main body is white.

no bag....